1. Get access
Access to exams are made in a couple of ways:
Normally you would have purchased exam credits through the exam store. The exam credits are delivered to your account in VirtualTester. One credit is good for one attempt on the exam.
Access to exams may also be made using vouchers. Vouchers have a 8 to 10 character code that is entered when redeeming. Different types of vouchers are available and may be identified with the first characters of the code. If the code starts with T- or P-, exam starts immediately when redeeming.
A third way to run exams is by a event id. This event id is entered in the exam software and may give you access to the exams configured.
2. Run
Download and install the TesterPRO Client software on your computer. Start the application and login or create a new account.
Select the brand for which you want to run a certification exam.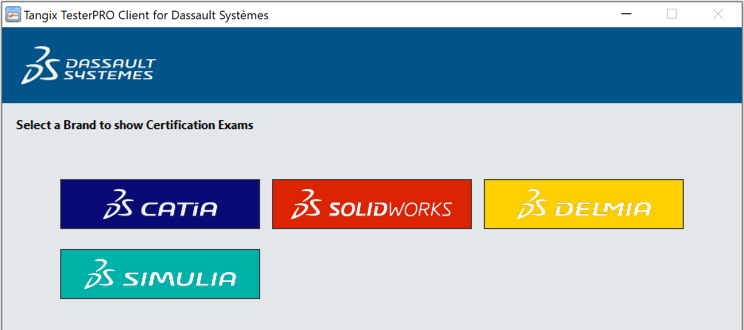 Exams that you have credits available for will be listed in the scrollbox. You also have the option to enter a voucher code or event id.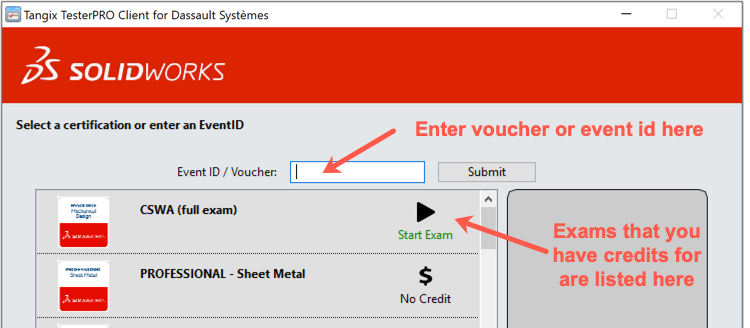 After the exam information has been downloaded, the questions will be shown, ready for your answers.
3. Complete
At the end of the exam your answers are uploaded to the server. Your score is shown in the result window. If you pass the exam, your certificate will be emailed to you. Details on your exams are available in the Certificate Center.
More information?
If you would like additional information about SOLIDWORKS certification exam, please see the SOLIDWORKS Certification page.
SOLIDWORKS Certification page